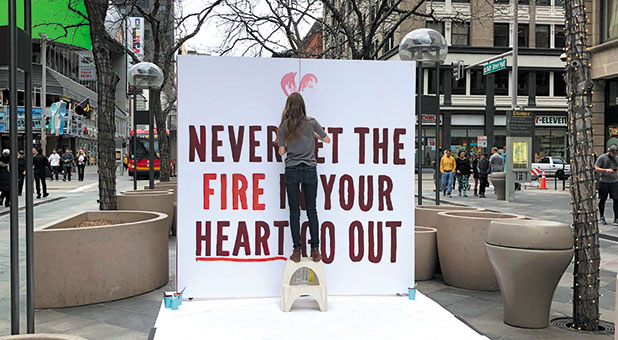 MOPS International is reaching moms for Christ in the U.S. and in more than 60 countries. Led by President and CEO Mandy Arioto, the Denver-based nonprofit organization has come alongside mothers of preschoolers and children of all ages to support them in the home and church. The organization—now nearly 50 years old—offers support and training through its MOMcon conference, spiritual formation and practical application according to the needs of the group.
As a result of MOPS moms' effective outreach, the local church is growing. The church is a critical component of MOPS and partner to the organization.
"What we do is we partner with churches in order to help them utilize our decades of success and retain young families in connecting them with our local faith community because we believe that while MOPS is a really great starting point—in that we're really good at starting conversations about faith and resourcing women and kids and families—it's in the context of the church that families can experience lifelong spiritual formation," Arioto said. "And so we offer practical leadership training and mentoring, and we have faith conversations with young families."
Churches are not only growing in numbers but also in leadership because of MOPS' ministry.
Get Spirit-filled content delivered right to your inbox! Click here to subscribe to our newsletter.
"What I frequently hear from church leaders are two things," Arioto said. "The first is that their church grows exponentially when they start a MOPS group because we're such an easy front door into the local church, but second—and I just heard this recently from the largest church in Denver—the pastor there told me that every single woman leader in the church has come up through MOPS."
Phil Hodson is one pastor who has seen his church increase because of MOPS.
"We continue to see moms engage with MOPS from beyond the church and see their lives and relationships blossom through gatherings and interactions," Hodson said. "We see our congregation grow as a direct result of offering this meaningful ministry to moms."
Beyond evangelism and discipleship, MOPS is also a leadership training organization.
"We equip women for leadership in their local church and also in the community at large," Arioto said. "But really, we do that because we know that when women connect to the local church, their kids do and their husbands do, and it creates this generational lifelong spiritual formation."
Doing Life Together as Moms
MOPS wants to reach out to every mom in the purview of its local groups.
"We are an evangelical outreach organization," Arioto said. "We say that every single mom is part of our tribe, of our community, and we believe parenting is a team sport. We do this together, and we're much better when we're together."
This leads to the kind of discussions at MOPS groups that moms may not have access to elsewhere.
"We really create space to have conversations that other people might not be talking about," Arioto said. "We bring moms in, and we talk about sexuality, we talk about justice, we talk about how God calls us to care for the poor. We talk about how God views our mothering and the impact of that. And we talk about unconventional things that are happening in culture because we know that young women are desperate for a safe place to talk about the things that are bothering them or that they're worried about, or that are really impacting their families profoundly, like pornography or abuse or addiction."
A mom named Lisa attests to the power of these open conversations.
"MOPS gave me amazing lifetime friendships and a place I could be me, be vulnerable and feel loved," Lisa said.
A mom named Stephanie says the organization's groups help her get settled when she moves away from the familiar.
"MOPS means a community and a place to go each time we have moved out of state, encouragement when it's hard, a reminder of why I love being a mother and a break to get refueled," Stephanie said.
MOPS helps families in many ways.
"We resource women with the tools they need to thrive so that their families can excel," Arioto said. "So we just believe that everyone belongs with us. And then at some point, we hope we can have faith conversations that encourage them to believe with us."
Responding to Moms' Felt Needs
In 1973, seven moms who lived on the same street in Denver got together to create an organization to serve moms. It started out of a "conversation about what they needed most," said Arioto, describing the period before that year as a "dichotomous time."
"June Cleaver was kind of an icon of motherhood, and she was making dinner in pearls and heels," she said. "Then you also had a time in our culture where birth control and abortion were being introduced. So now women had more control over their pregnancies, and the timing and spacing of their pregnancies, and on top of that, women were joining the workforce in record numbers. And so they had all these unique situations happening in motherhood culture."
This led to the need for a "safe place to come together and to talk about who they could be as moms, as leaders, as partners and as women," Arioto said. "And so they came together. They invited all of their friends, and one of the key parts of who they wanted to be together was they wanted to talk about faith, and they wanted to discover who God made them to be."
All moms are welcome to MOPS, despite the "preschoolers" part of its acronym.
"We work with women who are pregnant all the way to having kids in elementary school and even middle school sometimes," Arioto said. "We really have programs for all different moms. And on top of that, we have mentors in each of our groups, so we see a lot of women who have grandkids now who are coming back to MOPS and mentoring younger women."
No matter their age or station in life, mothers are mobilizers, Arioto said.
"The really interesting thing about MOPS and how it has evolved as an organization over the past 50 years is that women have this unique power to mobilize," she said. "And we know this because in developing countries around the world, the single most effective way to raise a community into a new level of thriving is to resource the moms who live there. ... When moms are resourced, they use their skills and leadership and influence to improve the lives of the people around them, starting with their kids and their spouses, but it extends out into the community they live in. And so moms are not only the emotional and spiritual litmus test of the home, but they're also that emotional and spiritual litmus test of communities and have the ability to raise communities to thrive."
Those communities extend internationally as well, from Australia and Albania to South America and Latin America.
"We have a unique experience that can be adapted for any part of the world that we're in, and it really takes on the nuance and the needs of the community that we start in," Arioto said. "And so every single MOPS program is led by locals in that community because they know the needs of that particular area the best, and then we really examine what needs the moms have, and we create programs to fit that."
She gave diverse contextualized examples, starting with the East African nation of Uganda.
"These moms were often going hungry because they're making $2 a month and could barely feed their kids and certainly couldn't send their kids to school because they couldn't afford the uniforms," Arioto said. "So the MOPS leader there started to teach the women in our MOPS program how to become tailors and to make soap. So now these women are entrepreneurs who have their own businesses and are creating tremendous income for their families, are able to send their kids to school, are able to nourish themselves and the people around them, and it's creating life change for the community. And not only that, but they're hearing about Jesus and sharing that with their family and kids as well. So that's what's happening in Kampala, Uganda.
"In Guatemala, we have communities that are learning how to make jewelry. It really takes on the unique flavor of whatever that community desperately needs. In the Middle East, we have women who have never been told that God values them. They've never felt valued as a woman, so we're teaching them leadership skills, which is unheard of in some of these countries. These women are experiencing self-awareness and self-esteem like never before because they're being reminded that God has a plan for them and that they have unique gifts that they can offer their communities. So it's really unique and really adaptable."
Creating a Tribe of Moms
MOPS International has a theme every year around which the year's activities revolve.
"We put together a theme that we kind of rally around, and in this past year, our theme was 'Find Your Fire,'" Arioto said. "It's really cultivating and recognizing the passion that God's put in your soul and then really bringing that into a frame. So last year, we kicked off our year with a video where we went out into this city, and we held up signs. We had this huge sign that says, 'Today It's Going to Be a Great Day,' and we put it on an overpass, or we held up signs that said, 'You Are Seen and You Are Loved.' And we have all these inspirational messages that we held up throughout the city."
The response to these affirming messages from people in MOPS' home city was powerful.
"People responded in the most profound ways," Arioto said. "They would come over and hug us. We had one woman who was crying. She said she just lost her job that day, and [the sign's message] was exactly what she needed to hear. I think sometimes when we go into the world and we bring messages of hope and healing, it has just significant impact that we don't even realize."
MOPS continues its support of women through other resources and activities, including its MOMcon annual conference (mops.org/momcon-2019/), which this year will be held in Orlando, Florida, Sept. 5-7.
"We bring together 3,500 women from around the globe, and it's part girls' weekend, part leadership training, part worship concert, part counseling session, part church service and part dance party," Arioto said. "It is like the ultimate weekend. And what happens is we come together, and we help women refresh their souls so they can go home and really feel inspired to step into the next level of whatever God is calling them to. So we train them. We create space to do work that God calls us to, whether it's repentance or really addressing the things in our lives that are holding us back or the areas where we're feeling stuck. But we also have a lot of fun. And so it is really the ultimate girls' weekend."
Bob Goff and Katherine Wolf are two of the speakers for MOMcon this year. Recording artist Crowder also will be there along with a couple of "surprises," Arioto said.
"We have six full sessions, and it's really a full weekend with incredible speakers and musical talent," she said. "And we're at Disney this year, which is really fun."
Staying in Tune With the Spirit
Like many moms and leaders, Arioto knows she needs regular rest but has had to learn to bring some fun into her life too.
"When I focus on rest, I always feel like I'm failing at it, because I have three kids and a busy travel schedule," she said. "I always felt like when I needed rest, I couldn't really find the thing I should do to make me feel rested. And so I came to the question this past year, What do I need to do to feel revitalized? Because that really is the goal of rest, right? So what I found is that in this season of life, what I need to do to revitalize my heart and soul and body is actually to have more fun, and that's changing everything for me. ... Fun helps me take life less seriously, it helps me to enjoy the people around me, and having fun has legitimately changed so many small details of my life."
As the most visible mother in the MOPS organization, Arioto has three older children.
"My oldest son is 17, and then I have two girls who are 14 and 11," she said. "I always tell people that I feel like I need MOPS now as a mom of teenagers more so than I ever did. So I feel like MOPS just is this universal experience of other moms coming together and saying, 'Oh my gosh, like you're experiencing the same thing?' It just really normalizes motherhood, and it reminds us that we're all in this together. Everybody's surprised at times by parenting, but it's about a day at a time and really enjoying our kids in the moment. So I learned as much from MOPS on a daily basis about raising my teenagers as I did when they were little."
Arioto started with the organization six years ago as director of marketing and has been CEO for three. She and her husband, Joe, came out of Mosaic Church and helped start its San Diego campus. She was a teaching pastor at the church.
When MOPS called to offer her the marketing position, she planned to decline, but God interrupted her.
"It sounds cliche and crazy, but I woke up in the middle of the night, and I really felt like God said, You need to go and you need to go now. So the next day, I told my husband," she said.
Nine days later, they were on the road to Denver.
"We didn't have a place to live yet," she said. "We didn't have any of the details, but we knew God was calling us out here to be part of this ministry, and so we took the leap. And it's been an incredible journey."
When she came on board, Arioto said she brought "a lot of passion and a lot of perspective. What I mean by that is there is so much potential. There are 2 billion moms in the world, 84 million just in the United States. And what God has given me is the perspective to see that there are moms all across the globe who desperately need the help of Jesus. And it might come through the medium of coming to a MOPS group, meeting some friends, having some conversations about faith, and those small conversations could change the entire fabric of their family for years and years to come."
Strong leaders must have a vision and a passion for their organizations, qualities Arioto also has. She also affirms her "trust in God" and "awareness that my own ability isn't going to make any of this happen."
With that humility, she knows she must keep her spiritual life in tune to lead her executive team and the broader organization well.
"Just like moms set the tone of their families, my spiritual life really sets the tone of our executive team and of this organization, so it's incredibly important," she said.
All in all, Arioto said she believes moms are "co-creators" with God. After all, mothers "labor to bring life into the world." She prays that every mother would know that what she does really matters, that even "the smallest details of her day will have a ripple effect into eternity."
As those effects take place in families across the globe, MOPS International is there to support moms, reassuring them that God is the "God of joy and peace and hope" who loves them dearly.
---
Christine Johnson is editor of Charisma Leader. She invites your response to this issue at chris.johnson@charismamedia.com.
CHARISMA is the only magazine dedicated to reporting on what the Holy Spirit is doing in the lives of believers around the world. If you are thirsty for more of God's presence and His Holy Spirit, subscribe to CHARISMA and join a family of believers that choose to live life in the Spirit. CLICK HERE for a special offer.
Get Spirit-filled content delivered right to your inbox! Click here to subscribe to our newsletter.
---
Dr. Mark Rutland's

National Institute of Christian Leadership (NICL)

The NICL is one of the top leadership training programs in the U.S. taught by Dr. Mark Rutland. If you're the type of leader that likes to have total control over every aspect of your ministry and your future success, the NICL is right for you!

FREE NICL MINI-COURSE - Enroll for 3-hours of training from Dr. Rutland's full leadership course. Experience the NICL and decide if this training is right for you and your team.

Do you feel stuck? Do you feel like you're not growing? Do you need help from an expert in leadership? There is no other leadership training like the NICL. Gain the leadership skills and confidence you need to lead your church, business or ministry. Get ready to accomplish all of your God-given dreams. CLICK HERE for NICL training dates and details.

The NICL Online is an option for any leader with time or schedule constraints. It's also for leaders who want to expedite their training to receive advanced standing for Master Level credit hours. Work through Dr. Rutland's full training from the comfort of your home or ministry at your pace. Learn more about NICL Online. Learn more about NICL Online.