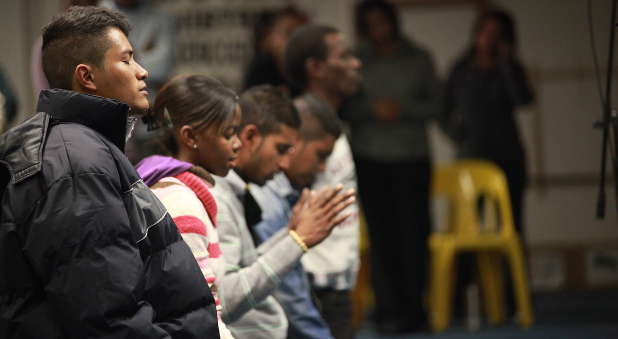 I am sure that most of you that read my recent blog on repentance and forgiveness already knew much of what I wrote and explained. You have likely read these verses a hundred times over.
You probably even committed some of the verses to memory. However, I want to challenge you to put the words of Scripture to the pavement of our lives and walk them out. We know we should forgive but we often fall short in obeying. We aren't diligent to take every thought captive to the obedience of Christ (2 Cor. 10:5), and it is easy to allow anger, resentment, and bitterness to take root.
Likewise, we know we should keep a short account of offenses with the Lord and with others and pursue reconciliation as soon as the Holy Spirit convicts. Yet, we allow pride or other logistical circumstances to stand in the way. Remember, your greatest privilege as a regenerated believer in Jesus Christ is to repent—don't miss out on the joy and growth of restoration.
Here are a few lessons that I have learned in my past relationships that might benefit other leaders concerning repentance and forgiveness:
Get Spirit-filled content delivered right to your inbox! Click here to subscribe to our newsletter.
1. In humility, die to self.Meditate on Philippians 2:5-11. All believers are called to deny self and take up their cross daily (Matthew 16:24-26). This may seem like an odd point to make but hear me out. We must continue to humble ourselves, not think of ourselves more highly than we ought, and put others' needs above our own. In this, I believe, offenses will not penetrate as harmfully as they have in the past. Christ's words offering forgiveness from the cross are the ultimate example of humility and selflessness. May our prayer always be to look like our Savior.
In humbling ourselves as a leader, we are in a better place for servant leadership. Jesus said that he did not come to be served, but to serve and to give his life as a ransom for many (Mark 10:45).
As a leader we need to die to self and serve others. For people like me who have come from the business world, this is probably one of the toughest lessons to learn. I'll say it again and again: the church is not a business, and you can not lead a church with business relationships. You are a pastor who wants each person to receive more and more sanctification from the Lord.
When God graciously calls you to walk alongside others in that process, it requires selflessness, sacrifice, and perseverance. Dying to yourself includes putting other's needs, wants, hurts, desires, even their success, above yours. According to Jesus, these are the two greatest commandments: "[Y]ou shall love the Lord your God with all your heart and with all your soul and with all your mind and with all your strength" and "You shall love your neighbor as yourself" (Mark 12:30-31).
2. Repent and grow. As I discussed above, repentance is continuous for the Christian, and a Christian leader is certainly no different. As a church leader, you will make more decisions than those you lead. With these decisions come more mistakes simply because you're making more decisions. I have learned the hard way that this increased number of mistakes increases your opportunities to repent to your fellow brothers and sisters.
No one expects you to be a perfect leader, just a repentant leader. So you need to have an open door that allows people to tell you how your decisions were wrong, sinful, hurtful, or unloving. Because in a church, you will find many declarations of "sin" and things of which need to be repented, you need to have an open door for discussion as a leader. (I will more fully discuss definitions of words like sin in my next blog post.)
Bottom line here is, this is your greatest (and most difficult) opportunity for growth as a leader: repentance. You make more mistakes, you have more eyes on you, and you are biblically held to a higher standard. These are great opportunities as a leader to humbly allow other brothers and sisters to help us grow.
Over the past couple of months, a former Mars Hill elder has practically walked this principle out with me. He had the best intentions in trying to help me see things that I had done that were not in the best interests of others. However, it was not until after I left Mars Hill that I really listened to him and then prayed about some of the things he was saying. Initially (and at a critical point), I was not receptive to his efforts, but now, I am able to grow in my former "blindspot" areas. I am thankful for my brother's persistence and love.
3. Have empathy for others. As leaders, we must see things from other people's perspectives and feel what they feel. In order to care for them well, we must take the time to listen to their feelings, fears, and concerns. We must love our brothers and sisters and care for them in this practical way.
In the past, I have used the justification of my actions and lack of time to not have great empathy for the people whom Jesus gave me to shepherd. As a leader and pastor, I implore you to slow down, take time to meet with people, listen to them, and communicate your feelings and understanding to them.
One important thing that I have learned over the last couple of years is that as a leader many decisions or actions that you make affect a lot of people. There are things you do that might not be classified as "sin" but they still hurt people. It is important to sit down with the people with whom you had direct contact and talk through the hurt they feel.
In situations where sin has been committed, repent. Where there is no sin, but something regrettable, you need to own that with the affected party. If there is something that seems non-threatening in your opinion, hear their pain and hurt regardless of your perspective, put yourself in their shoes, and ask the Lord to help you understand how their lives were affected by your actions. This is your brother or your sister—love them.
4. Repent to others. Practice Matthew 5:23-24. When confronted with sin that you have committed, quickly and humbly repent to that person. If you are in a healthy, biblical community, you will oftentimes have people come to you sharing how you offended them or sinned against them. (Side note: confrontation is good. We all hate it because we hate being wrong. But the Church really needs to see confrontation as a helpful means to sanctification.) Other times you will pray, and the Holy Spirit will graciously tell you whom you have sinned against and need to repent to. Whichever means the Lord uses to confront your sin, confess it, repent of it, and change it.
In 2014, I prayed and the names of eight people immediately came to my mind. Over the next couple of days, I began to call them and repent to them. The Holy Spirit wants us to repent and reconcile with our brothers and sisters. You just need to ask him.
5. Gain a brother. Practice Matthew 18:15-17. Disputes and offenses happen in any organization, however in the church, we must always follow Jesus' teaching.Matthew 18 lays out the process for dispute communication.
The objective is to gain your brother or sister. Every confrontation needs to have the proper end goal: restoration.
Meet with your brother or sister face-to-face whenever possible. If this one-on-one meeting does not bring about repentance, then bring in a biblical counselor, pastor, etc. to help you gain a brother or sister.
If this meeting does not bring about repentance, then take this situation to church leadership to help you.
Over the last two years, I have seen many people forego their responsibility to seek reconciliation according to this biblical process. With the rise of Facebook, blogs, and Twitter, people seem to think that telling your Facebook friends of an individual's sin is the first step. I have personally failed in this regard and have also been victim to it. It is detrimental to reconciliation and extremely hurtful to a relationship between siblings in Christ. Don't do it! Resist the strong temptation to function outside of the instructions of Scripture. You can be sure that it is from the enemy whose only plan for your life is to kill, steal, and destroy (John 10:10). Do not let him take the joy of restoration from you.
6. Forgive those that will not meet with you. In walking out the instructions in Matthew 5:23-24, you need to seek as much as possible to meet face-to-face with your brother or sister. However, you will find that some people will not meet with you, even though they have written blogs, done interviews with media outlets, and continue to communicate to others how you have sinned against them. Forgive them, pray for them, and do not put a time limit on reconciliation. For instance, there is someone that has been very public regarding my sin against him for almost two years now. Unfortunately after repeated attempts, he still refuses to meet with me. I pray for him and continue to hold out hope for reconciliation through a face-to-face conversation someday.
In my experience, some of your greatest and most vocal critics who are calling for repentance will not want to sit down with you to give an opportunity to admit wrongdoing, apologize, and ask them for forgiveness. There is then no opportunity for reconciliation. (You however don't need to meet with those you've offended in order to repent.)As a leader, this will be very difficult and one area you will need to continually give up to Jesus in prayer. Forgive, forgive, and forgive with your mouth in prayer until that forgiveness gets deep into your heart.
7. Forgive those who do not believe they have sinned against you. It is very disheartening when you want to sit down with someone and practice Jesus' instructions given in Matthew 18, but they do not believe they have sinned against you and refuse to meet. What should you do? Forgive them. You do not need someone to tell you they are sorry in order to forgive them. One of the most prominent teachers on forgiveness and redemption would not meet with me after he sinned against me. I had to decide whether I would become bitter and harbor resentment toward this person or if I would forgive and pray for him. By the power of the Holy Spirit, I obeyed Christ's command to forgive, because this is exactly what Jesus has done with my sin against him.
As a leader, this point will not be easy for you, as it hasn't been for me either. You are eager to sit down with someone with whom you had direct contact, who sinned against you, and discuss it with them. However, this is something you simply have to lay down at the cross of Jesus.
8. Accept that repentance does not automatically mean reconciliation. Many times I have seen repentance and forgiveness take place, without reconciliation. The damage that the offense caused is oftentimes too great to have full restoration and reconciliation, especially immediately. You need to accept this possible reality as part of our broken, fallen world. The relationship you once had with a person will never be the same, but you need to do everything you can to repent, forgive, and live peaceably with your brother or sister (Rom. 12:18, Heb. 12:14).
9. Outdo one another in showing honor. Sometimes when we forgive, it is with gritting teeth and white knuckles. What would happen if we applied Romans 12:10, "Love one another with brotherly affection. Outdo one another in showing honor," specifically and purposefully to those who have hurt us, rejected us, slandered us, maligned us, blogged about us, figuratively thrown stones at us.
Think about the person whom the Holy Spirit has brought to mind, and ask the Lord how you can love that person and "outdo" them in showing honor to them. And remember that is exactly what Christ did for you: he loved you and outdid you in showing you honor as he presented you to the Father as holy, blameless, and above reproach (Col. 1:23).
The points above describe realistic issues that arise when attempting to live a life of repentance and forgiveness. But what about theoretical issues that arise? Words like sin, repentance, and forgiveness are at the core of our Christian faith. Unfortunately, we cannot assume that every Christian understands or agrees upon the meanings or applications of those doctrines.
Church leaders often do not clearly communicate the meanings of these foundational and weighty words. And when a crisis hits, the church staff and the church body can have disagreements over them that have huge ramifications.
Click here for part one of this series. Stay tuned for the next post in this series for helpful ways you can safeguard your church from these damaging disagreements.
Sutton Turner is the executive pastor at Mars Hill Church in Seattle, Washington. For the original article, visit investyourgifts.com.
Get Spirit-filled content delivered right to your inbox! Click here to subscribe to our newsletter.
---
Dr. Mark Rutland's

National Institute of Christian Leadership (NICL)

The NICL is one of the top leadership training programs in the U.S. taught by Dr. Mark Rutland. If you're the type of leader that likes to have total control over every aspect of your ministry and your future success, the NICL is right for you!

FREE NICL MINI-COURSE - Enroll for 3-hours of training from Dr. Rutland's full leadership course. Experience the NICL and decide if this training is right for you and your team.

Do you feel stuck? Do you feel like you're not growing? Do you need help from an expert in leadership? There is no other leadership training like the NICL. Gain the leadership skills and confidence you need to lead your church, business or ministry. Get ready to accomplish all of your God-given dreams. CLICK HERE for NICL training dates and details.

The NICL Online is an option for any leader with time or schedule constraints. It's also for leaders who want to expedite their training to receive advanced standing for Master Level credit hours. Work through Dr. Rutland's full training from the comfort of your home or ministry at your pace. Learn more about NICL Online. Learn more about NICL Online.