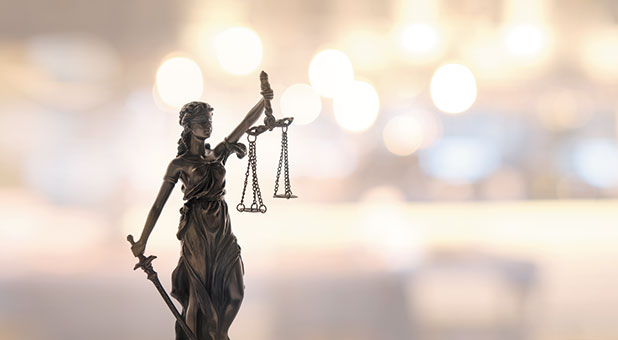 Brian Flagler is far from the type of lawyer seen in incessant television commercials. He's not in business to enrich himself, he resists the idea of building his own empire and he's not prone to prosecute. Flagler became a lawyer for one reason: God called him.
Flagler said he doesn't hear God's voice audibly on a regular basis, but twice, at pivotal points in his life, he did. The first time was when he was seeking God's direction for starting a career.
"I was in Two Medicine Campground in Glacier National Park and had spent the summer traveling the national parks with a friend and praying about whether I was really supposed to go to law school. I'd taken the LSAT, and God woke me up at 2:00 in the morning with the clear direction that is what I was supposed to do. What I believe He communicated to me was that going to law school would give me a body of knowledge that would allow me to help others, so that's what I did."
But Flagler thought God was taking him on an altogether different course in law than the type of practice he has today. He thought God wanted him to "help criminal defendants or perhaps folks who can't afford a lawyer."
Get Spirit-filled content delivered right to your inbox! Click here to subscribe to our newsletter.
While studying at the University of Virginia School of Law, Flagler became fascinated with another area of law.
"Intellectual property is what really caught my attention," he said. "It wasn't until years later that He gave me the opportunity to combine my faith and intellectual property when I joined Multnomah Publishers."
Leaving his Dream Job
Flagler practiced intellectual property and corporate law in two firms—Davis Wright Tremaine LLP and Troutman Sanders LLP—before joining Multnomah, a Christian publisher based in Oregon at the time. He also served as adjunct instructor of intellectual property law at Clayton State University.
Bringing his significant experience to Christian publishing, in 2002, he became vice president of administration and general counsel at Multnomah Publishers, where he led the human resources, information technology and operations departments and was responsible for corporate legal matters. In short, Flagler had landed his dream job.
In summer 2005, God seemed to speak to Flagler again as he listened to his pastor preach on John 15, a passage about staying connected to the vine and bearing fruit.
"It struck me just out of nowhere that I was to leave my dream job at Multnomah and start a practice serving Christian publishing more broadly," he said, a career move that filled him not with peace but fear. "I remember going home from church that afternoon and telling my wife, 'I think I'm supposed to leave my job and start a law practice, and I'm absolutely terrified.'"
But thankfully, his wife, Amy, didn't have the same reaction.
"She was ready to go," Flagler said. "'If that's what God wants us to do, then let's do it.' She wasn't afraid. I wrestled God for about nine months over this question. I'd never had the dream of having my own business. I did not have that entrepreneurial bug. The leadership team at Multnomah was a great place for growth for me with some very mature Christian men. We prayed together every morning, so these guys knew that I was praying about this and wrestling with it."
Flagler took several months to pray and ponder, but finally, he obeyed God's leading and took a big step.
"In early 2006, I went to the owner of Multnomah Publishers, Don Jacobson, and told him, 'I think I have to do this. I think I need to leave, and I need to follow what God's asked me to do to serve the industry more broadly.' We had tears in my office that night. He asked me to draft how to eliminate my job and delegate my responsibilities."
That night, Flagler sent a proposal on "how to eliminate my dream job," he said. "At 9:00 the next morning, I came in and had another moment of doubt, just wrestling with that decision."
But then God made the way crystal clear.
"I was not in the office 30 minutes when a publisher from Grand Rapids called, one I'd never spoken to who had heard me speak at an event," he said. "They had a copyright infringement matter, and they were calling to ask whether I could help them. That was the first in a series of what I call bright neon-light moments that this is what God had asked me to do."
Serving a Niche Clientele
Flagler describes this redirection as "very much a God story." His firm was founded in 2006, when he and Amy had a young family at home, but his wife was fully on board.
Flagler established Flagler Law Group in Sisters, Oregon (which later moved to Bend, Oregon), to serve the legal needs of organizations that publish and distribute Christian media. During his time at Multnomah, Flagler had become acquainted with the Evangelical Christian Publishers Association (ECPA), so he started working with ECPA, its member publishers and some large churches.
"Our second client, other than Multnomah Publishers, was Andy Stanley's church, North Point, so we did represent and continue to represent a number of larger churches who publish their own resources," Flagler said.
The firm's church clients now include The General Council of the Assemblies of God and Elevation Church, led by Steven Furtick.
Flagler Law also provides a legal hotline service for three organizations: ECPA, the Evangelical Press Association (EPA) and the Protestant Church-owned Publishers Association (PCPA).
Flagler and his associate, attorney Craig Gipson, speak at various conferences and events, so they sometimes get new clients that way, thoughthat is not their purpose in speaking.
"We don't do any marketing, and we haven't in the 12 years we've been operating, so I don't take credit for any of our clients," Flagler said. "They found us."
"The fact that we distinguish ourselves as staying focused on the clients' best interest has been the strongest marketing tool I can identify," he said. "When clients believe we generally have their best interests at heart, it's very easy for them to recommend us."
Clients include magazines and websites along with book, Bible and curriculum publishers.
"We basically work in any format that involves publication of the gospel," Flagler said. "We bring in other experts when needed. So we bring in a lawyer in Hollywood when needed on motion picture deals or music lawyers when we have a really sophisticated music issue."
The firm represents publishers and other entities in publishing such as churches and seminaries.
"We're about the most narrowly focused law firm I know of," Flagler said.
In one sense, the firm's focus is narrow, but in another, it's broad.
"We represent a wide variety of Christian publishers of diverse theological perspectives," Flagler said. "I believe the Christian publishing space is best served by publishing under a big tent."
Flagler Law Group offers quite a variety of client services within its wheelhouse.
"Intellectual property agreements would be a large portion of our practice, and that would include everything from the agreements used with authors to agreements with contractors, licenses, buying and selling of publishing companies," Flagler said. "We create a lot of templates so we can create something once the client can use over and over again, so they don't need us as often.
"The second would be intellectual property counseling, advising on everything under the sun—advising a pastor on what video clip he can include on Sunday morning or at a conference to what can be included in a book or a video, as well as libel reviews and manuscripts, those types of questions.
"The last large portion would be trademark portfolios. Most of our clients, including our ministry clients, have a portfolio of brands they use in one way or another, and we register those and protect them."
For the most part, the firm avoids litigation, taking an "only-when-necessary" approach," Flagler said. "We are more often involved in larger transactions. We're more transactional lawyers than we are litigators. But the litigation examples in the United States are primarily protecting our clients' copyrights and trademarks, and we often bring a litigator in if we actually have to address an issue in court."
Handling International Cases
In addition to Flagler Law Group's caseload in the U.S., the firm does some international work.
"We do represent or serve as the intellectual property counsel to a few U.S. publishing divisions of international organizations," Flagler said. "There are a variety of organizations that are based elsewhere that have U.S. operations. We have represented a number of them, or foreign Christian publishers that are publishing their books here under some type of relationship, and we represent them with respect to their U.S. operations."
Flagler said much of the firm's international work is related to "works being infringed outside the United States or dealings between U.S. organizations and organizations outside the U.S. where we are bringing foreign counsel in to handle the matter locally, and we're overseeing or advising on it."
One of those cases is well-known in the Christian publishing industry because of the publicity it has received.
"The Bible Centre Bible infringement in the U.K. was a multi-year, multi-publisher effort through ECPA that took every twist and turn and involved private investigators and lawyers in London. That was quite a story," Flagler said.
"We addressed piracy in Nigeria, which is an ongoing problem, but we've made some progress," he added. "And more recently, we had a situation with a website that was infringing a collection of Christian works in Australia and were successful in persuading them to take their site down."
International work is naturally more demanding than domestic cases.
"It is more difficult and more expensive because you have to have local counsel involved, both because the law is different and because the ethics requirements require local counsel, but also because you have to show that party you're serious," Flagler said. "And someone in Australia who's getting a letter from the United States, there's a part of them that wonders whether you're actually going to come down there and hold them to it, so that is a part of the strategy."
Meeting Client Needs
Originally from North Carolina, Flagler and his family moved back to the state in 2013 to open an office in Asheville.
The group rents office space at this point, but owning is "part of the long-term plan," Flagler said.
But he's not necessarily interested in expanding the firm.
"Any expansion we make would be because we feel like the client base needs it," he said. "I don't have a desire to build a larger firm for the sake of revenue. Nothing's wrong with that, but it doesn't wake me up in the morning. We may add another lawyer in the North Carolina office in the next few years just due to the need, and we may add one or more other lawyers remotely. It is a growing area of legal practice that professionals can work remotely from their home offices in such things as virtual law firms."
Flagler Law Group's client needs have grown, however, and that has led to some changes.
"That has required us to grow with them and meet additional needs," Flagler said. "For example, our nonprofit clients are bound by a variety of IRS regulations, and that's not a space I had training in earlier in my career, so we affiliate with a firm in Atlanta that is a great resource. It's those types of challenges that have required us to grow in the breadth of what we offer. Also the publishing industry has changed. There's been consolidation within the publishing industry that creates some degree of challenge."
But, Flagler pointed out, along with this consolidation—and the firm has assisted with some of the transactions—new Christian publishers have come to the fore.
"We have entrepreneurs who are starting organizations, and we're excited to work with them. But we feel that having a variety of publishing organizations that are focused on the gospel is a very rich and important aspect of the publishing industry, and so we would like to see more rather than less."
Additionally, publishers have been evaluating their business models for improved efficiency.
"Some have, for example, outsourced their fulfillment and warehousing function, and we've been involved in many of those transactions."
Building a Team
As managing partner, Flagler has a supportive team around him whose members are just as motivated as he is to serve clients with a ministry mission.
His associate and fellow attorney, Craig Gipson, practiced education and real estate law with Brackett & Ellis in Fort Worth, Texas, before joining the firm in its Oregon office. Gipson is a graduate of The University of Texas and The University of Texas School of Law.
Gayle Sawyer, legal secretary, paralegal and office manager, worked in the legal department at Multnomah before coming to the firm in 2006. The firm is now looking to add another legal assistant/paralegal in the Asheville office.
It's a small team at Flagler Law Group—but certainly a mission-minded one.
"Servant leadership is the core," Flagler said. "Our goal is to have an unwavering focus on what is genuinely best for the client. Lawyers in general do not have the best reputation for staying genuinely focused on the interests of their client. And I'm thankful that for Craig and me, that's just what drives us, so if that means persuading a client not to do a project and to save them money, we feel just as successful in that as we would if we completed a project."
How does Flagler measure success? The firm is successful when its "clients are able to focus on their ministry mission with a minimal degree of legal roadblocks and distractions," he said.
In 2015 at the Catalyst event, Flagler heard a message by Andy Stanley that had a significant impact on his life and career. The pastor asked a powerful question in the message based on the book of Nehemiah: "Who are you, and what breaks your heart?"
"I had to leave the conference and go sit down for a while and process what breaks my heart," Flagler said. "Am I doing what breaks my heart? I was very thankful for coming to the conclusion that what I'm doing is exactly what breaks my heart. And that is when those who are pursuing the call to ministry are, in some ways, running into obstacles that I can remove or help remove, I get to do that."
"To be willing to do whatever it is that breaks your heart—there's purpose in that."
---
CHARISMA is the only magazine dedicated to reporting on what the Holy Spirit is doing in the lives of believers around the world. If you are thirsty for more of God's presence and His Holy Spirit, subscribe to CHARISMA and join a family of believers that choose to live life in the Spirit. CLICK HERE for a special offer.
Get Spirit-filled content delivered right to your inbox! Click here to subscribe to our newsletter.
---
Dr. Mark Rutland's

National Institute of Christian Leadership (NICL)

The NICL is one of the top leadership training programs in the U.S. taught by Dr. Mark Rutland. If you're the type of leader that likes to have total control over every aspect of your ministry and your future success, the NICL is right for you!

FREE NICL MINI-COURSE - Enroll for 3-hours of training from Dr. Rutland's full leadership course. Experience the NICL and decide if this training is right for you and your team.

Do you feel stuck? Do you feel like you're not growing? Do you need help from an expert in leadership? There is no other leadership training like the NICL. Gain the leadership skills and confidence you need to lead your church, business or ministry. Get ready to accomplish all of your God-given dreams. CLICK HERE for NICL training dates and details.

The NICL Online is an option for any leader with time or schedule constraints. It's also for leaders who want to expedite their training to receive advanced standing for Master Level credit hours. Work through Dr. Rutland's full training from the comfort of your home or ministry at your pace. Learn more about NICL Online. Learn more about NICL Online.