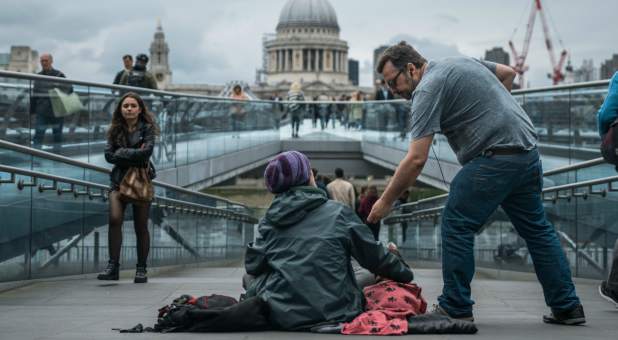 1. Not Under compulsion, but voluntarily according to the will of God" (1 Peter 5:2a, NASB).john 211
In John 21:15-17, the resurrected Yeshua commands Peter three times: "Tend my lambs ... shepherd my sheep. ... tend my sheep." Peter was a bold, strong man destined to be a great leader of God's people. In his own strength, he could have accepted these commands from Yeshua, as "under compulsion." But Yeshua knew that not Peter, and not anyone else, can lead like He leads "according to the will of God" under his own strength. He may start strong, but he will ultimately fail. This is why, in John 21, before each command, Yeshua asks Peter the rhetorical question, "Do you love Me?"
So it is with each of us who lead. If we are listening, the Holy Spirit is constantly asking us the same question: "Are you doing this because you have to? Or because you love God?" "If you love me and draw near to Me, then you can lead with my heart, my love, my wisdom ... and if not ... well, good luck!"
2. "Not for sordid gain, but with eagerness" (1 Peter 5:2b).
We all need to make a living; we all need money for family, food, clothing, maybe a car or other things. There's nothing wrong with church leaders being paid for their work. Just as in any workplace, those with more authority and responsibility also deserve higher pay. But to be true leaders in His image, the desire/need for money (and more money) must never be the source of our motivation. In 1 Corinthians 9:16, the apostle Paul testifies: "For if I preach the gospel, I have nothing to boast of, for I am under compulsion; for woe is me if I do not preach the gospel!"
All of us in church leadership must have this attitude: "I am doing this because God has called me, He has gifted me, it is His will in me. ... Woe to me if I don't do it! It doesn't matter if I get paid or how much; this is not just any job!" And the same is true for all of us, whether as parents or bosses—we must know that all authority is a gift from God (Rom. 13:1) and is something we should be eager to do for His glory—not for money or for status.
3. "Not as lording it over ... but as examples to the flock" (1 Peter 5:3).
Before I became a parent, I took a parenting class taught by a local pastoral couple here in Jerusalem. Seven years later, there is one thing I remember very clearly: "Your kids will do what you do, not what you tell them to do." This is one of the simplest and most universal of all leadership principles—lead by example.
By virtue of power and authority, many have succeeded to rule by "dictating" (being a dictator) over others. But their reign and influence is usually short-lived. As soon as the dictatorial leader dies, the whole thing falls apart. But when we rule from below, not above, by the example of obedience and holiness in our lives, we can produce lasting fruit in others that can continue to influence the generations after we are gone. In 1 Corinthians 4:9 and following, Paul describes apostles as those "at the end of the procession," not famous and prominent standing at the front of the parade, but nameless, as those condemned to death, weak, without honor and so forth.
The greatest leaders are often unknown, quietly leading many by their humble example. Yeshua said, "learn from Me, for I am gentle and humble in heart. ... For My yoke is easy and My burden is light." (Matt. 11:29-30)
This article originally appeared at reviveisrael.org.
Improve your life and ministry by learning something new. Our Ministry Leadership Bundle includes 3 Books: Amplified Leadership, Breaking Intimidation and The Power of Humility. View Offer!
Get our BEST DEAL on Ministry Today magazine. Get a full year for only $12! Yes-I want this deal.