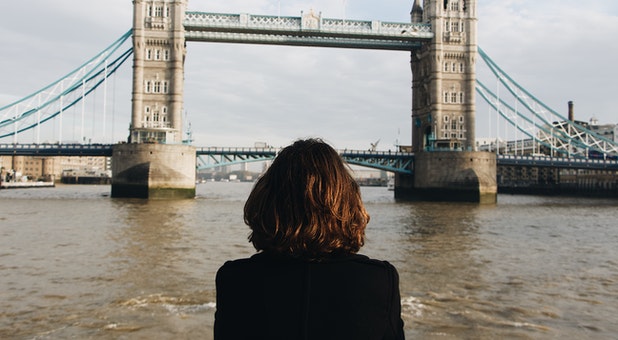 In Scripture, there are two macro themes related to the kingdom of God, "sovereign" and "manifest." In this article, I will discuss the differences between them. Understanding the differences between the two will bring clarity as it relates to the ways of God, as expressed in both Testaments of Scripture.
The Sovereign Kingdom of God
The sovereign kingdom of God has to do with the rule of God over all of the cosmos. This kingdom is the rule of God that emanates from the heavenly throne of God. This rule encompasses natural law and common grace. As a result, it enables the universe to be held together on a subatomic level as well as on a societal level (Col. 1:17, Heb. 1:3). Even Satan is under God's jurisdiction. In Job 1-2 and Luke 22:31, Satan has to ask God's permission before tempting Job and Peter.
The Bible says a lot about this dimension of the kingdom. Psalm 22:28 says, "For kingship belongs to the Lord, and He rules among the nations." Psalm 24 says that the Lord, as the King of glory, owns the earth and all who dwell in it. Psalm 103:19 says, "The LORD has established His throne in the heavens, and His kingdom rules over all." Daniel 4:34 says, "For His dominion is an everlasting dominion, and whose kingdom endures from generation to generation."
Get Spirit-filled content delivered right to your inbox! Click here to subscribe to our newsletter.
In this dimension of the kingdom, God ultimately rules regardless of whether people are personally submitted to Him. Paul writes about this in Ephesians 1:10-11:
" ... as a plan for the fullness of time, to unite all things in Christ, which are in heaven and on earth. In Him also we have received an inheritance, being predestined according to the purpose of Him who works all things according to the counsel of His own will."
According to this profound passage, God is in the process of aligning the heavens and the earth under the lordship of Christ. This implies that in the present time, some things within the cosmos are not yet obedient to Christ. However, God, in His macro sovereign kingdom, has predestined for all things to work in accordance with the counsel of His will. This means that even evil events will ultimately come into alignment with His overarching story and purpose.
Passages, such as the universal flood of Noah's day (Gen. 6-9); the destruction of Sodom and Gomorrah (Gen. 19); the plagues of Egypt (Ex. 4-14) and the natural disasters expressed as divine judgments shown in the prophetic books of Isaiah, Jeremiah, Ezekiel, Amos and so on all show the hand of God in various natural disasters. As Psalm 9:16 says, "The Lord is known by the judgment that He executes."
The Semi-Gnostic Dualists (by dualism, I refer to the erroneous teaching that God does not judge humanity or have a hand in natural disasters) in the church will be quick to point out that these examples are all in the Old Testament and do not comport with the New Testament. The problem with this line of reasoning is that the New Testament books of Jude, 2 Peter and 1 Corinthians all utilize these historical narratives, using them as warnings for the present church age (1 Cor. 10:1-11, 2 Pet. 2:4-9, Jude 5-11).
Additionally, the book of Revelation presents the biggest challenge to this dualistic theology. In this New Testament book, the prayers of the saints are offered before the throne of God, which precipitates various manifestations of divine judgments in the form of natural disasters on the earth (Rev. 5, Rev. 8). Therefore, in this macro sovereign kingdom, God allows natural disasters, plagues and other significant maladies to purge the earth while ensuring that such events are continually aligned with His big story. This eventuates in the visible and invisible universe aligning itself to Christ (Eph. 1:10).
The Manifest Kingdom of God
The manifest kingdom of God can be seen only when individuals align themselves with Christ and His lordship. According to Scripture (John 3:1-8; Col. 1:12-13; Phil. 3:20), only people who are "born from above" can positionally be in this kingdom. This believer is the one who can effectively represent God to this world by being Christ-like. Such Christ-likeness means that he is able to apply biblical principles to every sphere of influence that he is called to steward.
To the extent an individual aligns himself with Christ (impacting his sphere of influence), to that extent will there be effective systemic changes that will reflect the nature of the heavenly kingdom. Individuals who manifest this kingdom partake in the joining together of heaven and earth in principle, power and authority. This joining together of heaven and earth is what Jesus was referring to when He told us to pray, "Your kingdom come; Your will be done on earth, as it is in heaven" (Luke 11:2-4). This dimension of the rule of God corresponds to that which is in heaven, where all rebellion against God has been squelched (Rev. 12:7-9).
While we are on earth, the sovereign and manifest kingdom interact in tension, as is shown in numerous passages. Psalm 46 shows that God is a present help in times of trouble. Psalm 23 talks about God being with a believer while he is walking through the valley of the shadow of death. Ephesians 6 speaks about believers wrestling against cosmic forces of evil, even though they are already seated with Jesus in the heavenly places (Eph. 2:1-6).
These Scriptures reflect the dynamic tension experienced by the believer as he partakes in aspects of the presence and rule of God while also engaging in epic battles between good and evil. This speaks to the reality that while the kingdom is "here" now, it is "not yet" fully manifested now. Jesus taught believers to pray for God's kingdom to come on earth, which implies that even though God is in charge, heaven and earth are not yet fully aligned.
What are the implications of these two aspects of His kingdom?
Once we understand there is a "sovereign" kingdom of God over the cosmos as well as a "manifest" kingdom in the lives of believers, various misunderstandings of the Scripture will be cleared up. When believers are faced with various trials, having the correct understanding of God's kingdom is essential.
The Kingdom of God and the Present Pandemic
When we understand both aspects of the kingdom, we can see how they mingle together. While every unredeemed person is under the jurisdiction of the sovereign kingdom, only true believers have the right to access the benefits of the manifest kingdom. Hence, while the world is receiving plagues and filled with fear, the believer can walk in faith and receive divine healing based on the finished work of Christ's atonement (Isa. 53:4-6, Matt. 8:16-17, 1 Pet. 2:24).
Understanding these two aspects of the kingdom illustrates how the same God who heals, blesses and prospers individuals can be the God who allows traumatic things to take place in the world. If the devil initiates it, a believer can resist it and overcome it, even though God allowed it. Hence, while God may be purging the whole earth and shutting it down, individuals, aligned under Christ, can receive God's help and assurance of His love during a crisis.
Ultimately, at the final consumption, the sovereign kingdom will morph into the manifest kingdom, and the manifest kingdom will not be distinct from the sovereign kingdom. This is what Ephesians 1:10-11 is about. This is also what Paul speaks of regarding the ultimate consumption of the kingdom. 1 Corinthians 15:24–28 says:
Then comes the end when He will deliver up the kingdom to God the Father, when He puts an end to all rule and all authority and power. For He will reign until He has put all enemies under His feet. The last enemy that will be destroyed is death. For He "has put all things under His feet." But when He says, "all things are put under Him," it is revealed that He, who has put all things under Him, is the exception. When all things are subjected to Him, then the Son Himself will also be subject to Him who put all things under Him, that God may be all in all.
In summary, in the end, after all things are aligned under the lordship of Christ, Jesus will be subject to God the Father (Eph. 1:10). God will be all in all. As a result, all rule, authority and even death itself will be effaced from the cosmos.
Until this final consummation, all believers will have to live within the tension of the sovereign kingdom that temporarily allows disobedience and rebellion, and the manifest kingdom, which gives us a taste of heaven on earth.
Get Spirit-filled content delivered right to your inbox! Click here to subscribe to our newsletter.
---
Dr. Mark Rutland's

National Institute of Christian Leadership (NICL)

The NICL is one of the top leadership training programs in the U.S. taught by Dr. Mark Rutland. If you're the type of leader that likes to have total control over every aspect of your ministry and your future success, the NICL is right for you!

FREE NICL MINI-COURSE - Enroll for 3-hours of training from Dr. Rutland's full leadership course. Experience the NICL and decide if this training is right for you and your team.

Do you feel stuck? Do you feel like you're not growing? Do you need help from an expert in leadership? There is no other leadership training like the NICL. Gain the leadership skills and confidence you need to lead your church, business or ministry. Get ready to accomplish all of your God-given dreams. CLICK HERE for NICL training dates and details.

The NICL Online is an option for any leader with time or schedule constraints. It's also for leaders who want to expedite their training to receive advanced standing for Master Level credit hours. Work through Dr. Rutland's full training from the comfort of your home or ministry at your pace. Learn more about NICL Online. Learn more about NICL Online.