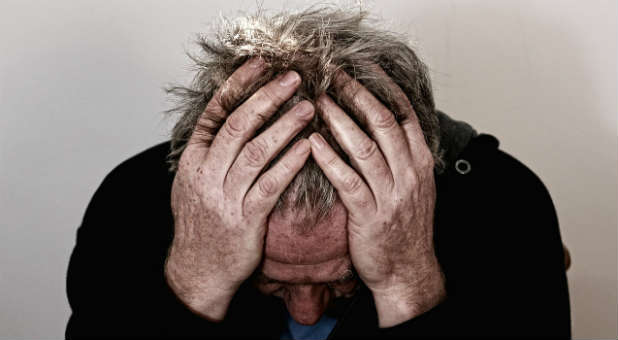 William Rainey once said, "Why didn't somebody ever tell me that I could become a Christian and work on all my doubt afterward?" The fact is, every little step you take toward Christ moves you further away from the four D's: doubt, discouragement, depression and despair.
We're all moving, but sometimes we move slowly. Are you struggling this season with one of these "D" issues?
Are you doubting God's love because you're in a crisis? "God! I've just found out I have a terminal illness! Don't You love me?"
Are you discouraged because you don't think He cares for you? "God! Don't you see the trouble I'm in? Don't You care?"
Are you depressed because life has not turned out the way you thought it would? "God! My husband/wife is leaving me! Can't you stop this from happening?"
Are you despairing because you don't think He's forgiven you for your latest sin? "God! I still feel guilty. Haven't you forgiven me?"
The Bible makes this statement in 1 John 5:13a: "I have written these things to you who believe in the name of the Son of God, that you may know that you have eternal life."
There's a lot we don't know, but the most important question has already been answered.
The things written in God's Word are written so that you may know absolutely, for sure, for certain and with confidence that when you die, you are going to heaven.
That doesn't mean you won't make mistakes. That doesn't mean you won't go through trials. That doesn't mean you won't disappoint people and they won't disappoint you. That doesn't mean you won't sin.
The point is—you don't have to be perfect to get to heaven, but you do have to put your faith in Christ.
Thank God you don't work your way to heaven; if that were the case, none of us would make it.
Jesus said, "I am the way ... . No one comes to the Father except through me" (John 14:6). Put your faith in Him, not in your efforts, and you can know for sure that heaven is your destination.
Where have you been doubting God? In the area of your finances? Your family? Victory over a bad habit? Maybe you've been doubting that you'll ever change.
The fact is, when Christ saved you, He solved your biggest problem. He has a solution for all the rest, but your unbelief limits His work.
There's a tragic verse in the Bible that explains when Jesus went to his hometown of Nazareth "he did not do many mighty works there because of their unbelief" (Matt. 13:58).
If you want to see God work in your life, you've got to take some risks. Try that new approach. Begin that Bible study. Get involved. And then watch God work in your life.
Improve your life and ministry by learning something new. Our Ministry Leadership Bundle includes 3 Books: Amplified Leadership, Breaking Intimidation and The Power of Humility. View Offer!
Get our BEST DEAL on Ministry Today magazine. Get a full year for only $12! Yes-I want this deal.