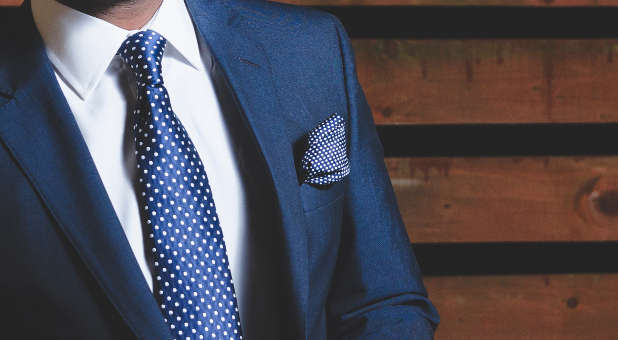 "I was with you in weakness and in fear and in much trembling" (1 Cor. 2:3).
For reasons I cannot explain, this line from the great apostle has lodged itself in my heart over the past few days. The more I reflect on it, the more I appreciate Paul's admitting it.
In this and every other case where Paul mentions some kind of physical infirmity, we wish we had more information. Was he sick? Ailing? Still healing from previous beatings?
John MacArthur writes: "Paul came to Corinth after being beaten and imprisoned in Philippi, run out of Thessalonica and Berea, and scoffed at in Athens, so he may have been physically weak. But in that weakness, he was most powerful. There were no theatrics or techniques to manipulate people's response. His fear and shaking was because of the seriousness of his mission" (The MacArthur Study Bible).
Get Spirit-filled content delivered right to your inbox! Click here to subscribe to our newsletter.
I suppose we preachers are a lot like horses and mules and dogs: Hit us often enough and we become "gun shy." We want to stand and deliver with boldness and power, but we're ready to duck.
Thank you, Paul, for telling us this. And if you will allow me, I will draw a few inferences from it that I find helpful to all of us who stand to proclaim God's Word.
We appreciate the transparency, Paul. It pleases me when a person we acknowledge to be "great" is not impressed by their own PR but continues to act like a real person. Paul had not read his own press clippings and so did not try to maintain a "public persona." He took no protective steps to guard his brand.
"This is what was going on inside me when I preached the Lord's message to you," the apostle tells the Corinthian believers.
We have no idea what they made of that. Could be some scoffed at it. After all, we know from this and the Second Corinthian epistle that some in that church were dismissing Paul as nothing but a first-class letter-writer, but a johnny-come-lately and a second-rate preacher who was unworthy of the mantle of an apostle.
What I make of his statement, however, is this: He's honest and he is humble. And I appreciate that about him.
We too often proclaim the gospel in weakness. All over the world, God's preachers are mistreated and harassed and persecuted. Just because we in America aren't, should not make us miss this point. Many stand in pulpits (or in jails or on street corners) and through great pain and at great peril, proclaim the message of Jesus Christ and His redemption.
The weakness pastors in this country endure while delivering the Word of the Lord tends to be of another type. I have stood to lead worship services and deliver the Lord's message when sitting in the pews staring me down were some who despised me and were doing all in their power to get me fired. The embattled preacher quickly learns to put his eyes on the Lord and look only to Him for affirmation.
My brother Ron has preached almost all his adult life as a diabetic, with the limitations that disease imposes and the regimen it requires. Nearing 85 now, he still pastors God's church.
Other pastors and preachers deal with other kinds of infirmities. God bless them. They read this statement from Paul and know the feeling.
We appreciate hearing what the great apostle had to contend with. For reasons I cannot fully understand or adequately explain, when we learn that others who went before us in this work endured great hardship of the same type we daily deal with, it helps. It's not anything as shallow as "misery loves company." It's more like, "This apparently is the norm. If they had to deal with this kind of trouble, it does not mean I'm failing in some way."
That's why the ordeals of Moses while leading Israel through Sinai's wilderness are instructive and oddly affirming to us. Time and again, we read how the people "murmured" against the man of God. Modern translations will change that to "grumbling," "were loud in their complaints" and such, but "murmuring" does it for me. The word carries the soft background sounds of cowards who dare not confront their leader, but lurk around the edges of the crowd to infect others with their discontent.
"Consider Him who endured such hostility from sinners against Himself, lest you become weary and your hearts give up" (Heb. 12:3).
We gain strength and determination from watching how our Lord endured the persecutions and hostilities flung His way. In the same way, we are encouraged by seeing that God's lesser servants put up with the same treatment.
We see here a great lesson taught all through the Word. That lesson is given eloquently in Paul's next epistle to these people: "Lest I should be exalted above measure by the abundance of revelations, a thorn was given me in the flesh, a messenger of Satan, to torment me, lest I be exalted above measure. I asked the Lord three times that this thing might depart from me. But He said to me, 'My grace is sufficient for you, for My strength is made perfect in weakness.' Therefore most gladly I will boast in my weaknesses, that the power of Christ may rest upon me" (2 Cor. 12:7-10).
God loves to use small things, little gifts and weak people. He delights in using congregations of a few people, people of no talents and tiny acts of service. Why? For one reason, "That no flesh should boast in His presence" (1 Cor. 1:29).
But mostly, I suspect it's just because He can.
No one enjoys being weak. However, it's no excuse for anything. As John the Baptist saw himself fading into the background and Jesus of Nazareth rising to the forefront, he must have remembered his own words spoken earlier, before they carried the impact they did now: "He must increase, but I must decrease" (John 3:30).
When the apostle Paul was berated as an unworthy impostor, accused of falsely claiming the credentials of a genuine apostle, he responded not as we would have expected. He could have shown his critics his educational accomplishments, rolled out the impressive list of his accomplishments and cited his stellar references. He did none of this. Instead, he spoke of his weaknesses.
"Five times I received from the Jews forty lashes minus one. Three times I was beaten with rods; once I was stoned; three times I suffered shipwreck; a night and a day I have been in the deep; in journeys often, in perils of waters, in perils of robbers, in perils by my own countrymen, in perils by the Gentiles, in perils in the city, in perils in the wilderness, in perils in the sea, in perils among false brothers; in weariness and painfulness, in sleeplessness often, in hunger and thirst, in fastings often, and in cold and nakedness" (2 Cor. 11:24-27).
In the Tyndale Commentaries, Leon Morris quotes a second-century writing (Acts of Paul and Thecla) that purported to describe the physical appearance of the apostle Paul:
"A man of small stature, with a bald head and crooked legs, in a good state of body, with eyebrows meeting and nose somewhat crooked."
The Phillips translation of 1 Corinthians 2:3 has Paul saying: "I was feeling far from strong. I was nervous and rather shaky."
In his commentary on this epistle, Gordon Fee adds: "At the heart of (Paul's) preaching stood the 'weakness of God' (1:25), the story of a crucified Messiah (v. 2). His own weakness served as a further visible demonstration of the same message, but even more to demonstrate that the message was of divine, not human origin. Thus the apostle regularly glories in his weaknesses, not because he 'enjoyed ill health,' but because they were a sure evidence that the power was of God and not of himself."
Fee adds that Paul is "gladly willing that the Corinthians should now recall, so that they will be reminded of how unlike the Sophists (his critics) his preaching and appearance truly were."
I suggest we consider Paul's weaknesses, his trembling and his fearfulness while preaching in Corinth as his gift to us.
—It reminds us that we have this treasure in earthen pots (2 Cor. 4:7). The point of that is, "excellency of the power being from God and not from ourselves."
—It banishes forever our tendency to grab any excuse to get out of doing our duty. If he could do it, so can we.
If we had to wait until there were no obstacles to serve the Lord, nothing would ever get done. If we waited until all conditions were favorable, no one would ever set sail.
—It puts us in our place. We are only messengers, not the message.
In former days, when Western Union boys delivered printed communications to homes, no one rejected a message because the uniformed fellow at the door was found to be objectionable. He was irrelevant.
—In fact, it might even be good news. Perhaps, on the days when we feel especially poor, God might decide to do something extra special, just to show that He is in charge and can use the poorest of vessels.
I'm remembering when Billy Nimmons served as assistant pastor of the great First Baptist Church of Starkville, Mississippi, the pastor, Dr. D. C. Applegate, was dealing with a debilitating illness that eventually ended his life. Sometimes, Bill would get the call on Saturday night to be prepared to preach the next day. Once, he got the call an hour before church on Sunday morning.
That day, his sermon was particularly effective. At the conclusion of the service, the chairman of deacons teasingly announced: "This morning, we saw what God can do. Now, come back for the evening service and we will see what Bill can do."
Given a choice, we would all prefer seeing what God can do. If, in order for that to happen, His messenger must recede into the background and even carry a limitation of some kind, then so be it.
A handicap, we are told, is a burden given to superior people to even the playing field for everyone.

Joe McKeever is retired from the pastorate but still active in preaching, writing and cartooning for Christian publications. He lives in Ridgeland, Mississippi.
For the original article, visit joemckeever.com.
Get Spirit-filled content delivered right to your inbox! Click here to subscribe to our newsletter.
Dr. Steve Greene is now sharing stories, teachings, and conversations with guests who lead with love on Love Leads, a new podcast. Listen now.
---
---
Dr. Mark Rutland's

National Institute of Christian Leadership (NICL)

The NICL is one of the top leadership training programs in the U.S. taught by Dr. Mark Rutland. If you're the type of leader that likes to have total control over every aspect of your ministry and your future success, the NICL is right for you!

FREE NICL MINI-COURSE - Enroll for 3-hours of training from Dr. Rutland's full leadership course. Experience the NICL and decide if this training is right for you and your team.

Do you feel stuck? Do you feel like you're not growing? Do you need help from an expert in leadership? There is no other leadership training like the NICL. Gain the leadership skills and confidence you need to lead your church, business or ministry. Get ready to accomplish all of your God-given dreams. CLICK HERE for NICL training dates and details.

The NICL Online is an option for any leader with time or schedule constraints. It's also for leaders who want to expedite their training to receive advanced standing for Master Level credit hours. Work through Dr. Rutland's full training from the comfort of your home or ministry at your pace. Learn more about NICL Online. Learn more about NICL Online.