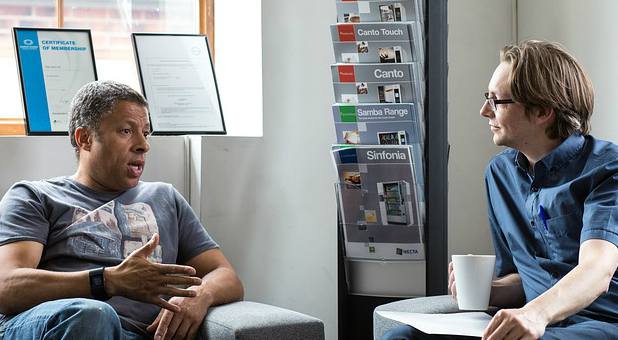 Note: This is part 2 of a two-part series. For part 1, click here.
If you want to improve your influencing skills, focusing on how other people act will only get you so far. The real change begins when you start focusing on your own behavior.
Specifically, there are four foundational influencing skills that are 100 percent in your control. Focus on these, and your influence will grow much faster than it ever would from focusing on cheap psychological tricks and tactics.
Influencing Skill No. 3: Harnessing the Power of Storytelling
I am an author and a speaker, but the essence of my work is storytelling. That's how I grew up.
Get Spirit-filled content delivered right to your inbox! Click here to subscribe to our newsletter.
My dad was a storyteller. When I got into trouble, I was told a story. When I was being taught something, I was told a story. Even in school, my favorite teachers were storytellers. I'd remember facts right up until it was time to take the test, but if I was taught the facts through a story, I'd remember the story forever.
Great stories move people. Great stories take us on a journey, allowing us to feel differently—and those feelings can change our perspective, often leading us to take action.
Stories connect in a way regular information does not.
Our brains, research continues to show, are wired to understand and retain stories, not facts and logic. While logic activates the rational left brain, stories trigger the imaginative properties of the right brain.
In other words, if you understand how to tell a story, you can dramatically increase your influence.
It may sound intimidating, but you don't have to be a skilled writer or speaker to become a good storyteller. You only need to focus on three things:
1. You must read stories.
This isn't exactly groundbreaking, but it's true—until you make reading a habit (both fiction and nonfiction), you will greatly limit your storytelling ability.
Reading well-told stories will fire your imagination. You will experience the stories as if they are happening to you.
As you read, pay attention to what moves you. When you feel yourself eagerly turning the page, ask why. What is the author doing to keep your attention? Over time, you will notice patterns that you can apply to the stories unfolding in your own life.
2. You must identify and own your personal story.
When I learned how to harness my own story as a speaker, author and consultant, my entire business changed. I was no longer simply entertaining people—I was inspiring them to make real changes in their behavior.
Whether you're on stage in front of an audience or meeting someone for coffee, you can do the same. But it all starts with identifying the key stories in your life to which people will be able to relate.
To do that, you need to look for emotion.
My story of overcoming homelessness allowed people to put their current challenges and circumstances in perspective. The lesson was clear—even when it looks like the world is ending for you, it's not. I was able to use my story to illustrate principles and lead people to understanding and action by connecting with them emotionally.
Until someone is moved emotionally, a story rarely sticks with them.
How many times in your life have you heard something in a business presentation that immediately went in one ear and out the other? Compare that to anytime you've watched a movie that moved you emotionally. In some cases, you probably weren't able to stop thinking about it for weeks.
Of course, stories that move us are stories that show some sort of problem or challenge that was overcome. That's why you should not shy away from challenging memories when thinking about your own story. Instead, focus on things like:
Failures
Mistakes
Shortcomings
Tragedies
The way you've responded to those things throughout your life is often what defines you as a leader and person of influence.
3. You must connect your story to your audience.
This may sound harsh, but if people have never heard of you, they simply won't care about your story—unless you explain what's in it for them. And then prove it beyond a reasonable doubt.
Can your story help others who are hurting? Does it apply to anyone else's life but yours?
To ensure the answer to those questions is "yes," the following questions should shape the way you tell your story:
Who is your audience?
What do they look like?
What do they need?
What do they want?
What problem can you solve for them?
What hope can you give to them?
What principles can you share through your narrative that will transform their lives?
Before you go into any situation in which you want to have influence, you must ask these questions about everyone involved. Armed with the answers, you can then identify key stories that will connect with them in ways an ordinary conversation or presentation cannot.
What if your personal story doesn't fit? Then expand your thinking to find one that does.
No project I have ever done in my life has affected me so profoundly as the research I did years ago on The Butterfly Effect.
Working with the United States Air Force, I was charged with finding "proof of the value of an individual life." At that time, the military had discovered that suicide was more prevalent within their ranks than within the civilian population as a whole.
The answer for which I was searching was way beyond encouragement or motivation. I had to find a way to convince someone, beyond a shadow of a doubt, that his life mattered immeasurably.
Beyond that, I wondered, Is it possible to prove that every single action we take also matters? Forever?
The notion seemed preposterous (even to me) but I set forth on what became the most important search of my life.
I began with a detailed investigation into a doctoral thesis written in 1963 by Edward Lorenz. In it, he theorized that a butterfly might flap its wings, moving molecules of air into motion that in turn moved other molecules of air, eventually becoming able to shift weather patterns on the other side of the world.
Of course, in 1963, the theory was ridiculous. And the New York Academy of Science said so.
It wasn't until the mid '90s when physicists, working in concert around the world, authenticated the Lorenz hypothesis. Commonly called The Butterfly Effect, it has now been granted the status of a law. Lorenz's broad strokes on the evolution of chaos theory have now been named The Law of Sensitive Dependence Upon Initial Conditions.
With that as a firm starting point, I set out to prove the same concept could apply to our lives as human beings. That every action we take—or don't take—creates a Butterfly Effect that can impact the entire world forever. And to prove that, I searched for stories.
I stumbled upon the story of Joshua Chamberlain and his improbable charge at Gettysburg—a single action that would ultimately determine the fate of the entire nation for centuries to come.
I discovered connections between Norman Borlaug, a man credited with saving over 2 billion people from famine, and a little boy who had been mentored by George Washington Carver.
I uncovered stories about Carver himself, his childhood and the incredible link a simple farmer's action provided that made possible all of Norman Borlaug's work—100 years into the future!
All this knowledge—this proof—affected me deeply. I began to be more effective in my daily life as I understood just how important my actions were and how incredibly valuable every person is with whom I come in contact.
I use this proof and these stories almost every time I speak and have never ceased to be amazed at their impact on people.
No one has a monopoly on great stories. There is an infinite number of them out there, simply waiting to be discovered. Once harnessed, they can illuminate lessons, insights and principles that will inspire and delight those you are seeking to influence.
So start with your own stories, but don't limit yourself to them exclusively.
Influencing Skill No. 4: Learning How to Network the Right Way
Most people think networking is going to a Chamber of Commerce meeting and handing out business cards.
While this might make you feel like you're networking, it ultimately does little to increase your influence.
The most effective way to network is often overlooked—mainly because it's uncomfortable, it requires more than just handing out a business card, and it's, well, a little different than what most are used to.
How to Network the Right Way
1. Know what you're looking for.
If you go to a networking event without a plan beyond just being there to network, you'll drift around and ultimately leave dissatisfied.
Before you even schedule it on your calendar, you should ask yourself:
What do I want to learn?
Do I want to meet a leader in the industry? If so, who?
Who might be there whom I'd want to get as a client?
Who might be there whom I'd want to connect and build a relationship with?
Who might be there whom I know I can help?
Once you know what you want, formulate a plan on how to get it. Figure out where you'll go, who you'll talk to and in what order.
2. Do some research.
If you know someone you'd like to meet will be at an event you're going to, do some research on them beforehand
A friend of mine once called me and asked if I knew someone he was about to meet with. I didn't, but I did some research on the person and called my friend back within about 30 minutes.
I told him several key pieces of information about this person from what I found on Facebook.
My buddy now had several key areas to connect with this person at the event they were attending.
If you find ways to connect with someone you want to meet, you'll have a greater chance of building a friendship with them (or landing them as a client).
3. Build friendships.
Truth is: handing someone a business card doesn't mean anything. You didn't become friends with them and you didn't land them as a client just because they have your card.
The best way to network is to genuinely try to build friendships.
Focus on building relationships rather than expanding your list of clients or contacts. Maybe one day down the road, this person will help you. Today, however, they're a new friend.
Use These Influencing Skills to Inspire Positive Change
These four influencing skills form the foundation you need in order to lead others to change.
Take steps each day to fold them into your life and keep them at the forefront of your thinking.
When you put yourself in a position to be a positive influence on others, amazing things can happen:
You could be the catalyst that helps people change their lives.
You could influence the way people think and help them achieve extraordinary results.
You could attract more opportunities and see your career or business grow exponentially.
This power is within your reach—will you grab it?

©2009-2017 Andy Andrews. Used by Permission. Originally posted on AndyAndrews.com.
Get Spirit-filled content delivered right to your inbox! Click here to subscribe to our newsletter.
Dr. Steve Greene is now sharing stories, teachings, and conversations with guests who lead with love on Love Leads, a new podcast. Listen now.
---
---
Dr. Mark Rutland's

National Institute of Christian Leadership (NICL)

The NICL is one of the top leadership training programs in the U.S. taught by Dr. Mark Rutland. If you're the type of leader that likes to have total control over every aspect of your ministry and your future success, the NICL is right for you!

FREE NICL MINI-COURSE - Enroll for 3-hours of training from Dr. Rutland's full leadership course. Experience the NICL and decide if this training is right for you and your team.

Do you feel stuck? Do you feel like you're not growing? Do you need help from an expert in leadership? There is no other leadership training like the NICL. Gain the leadership skills and confidence you need to lead your church, business or ministry. Get ready to accomplish all of your God-given dreams. CLICK HERE for NICL training dates and details.

The NICL Online is an option for any leader with time or schedule constraints. It's also for leaders who want to expedite their training to receive advanced standing for Master Level credit hours. Work through Dr. Rutland's full training from the comfort of your home or ministry at your pace. Learn more about NICL Online. Learn more about NICL Online.