How to find the right technology to launch and sustain growth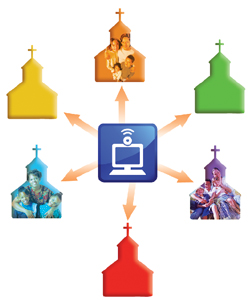 According to a 2010 survey conducted by Leadership Network, more than 5 million people attend a multisite campus church in North America. In fact, more people attend multisite churches than megachurches.
Much of this movement is possible because of technology. Internet technology enables churches to stream video in a variety of ways, making it possible for churches to replicate all or part of their main church's service to additional locations.
When consulting with churches, Jim Tomberlin, a multisite church strategist and founder of MultiSite Solutions (multisitesolutions .com), often begins by offering some important up-front education: "First of all, churches need to know that at least half of their startup costs will be in the technology area. Second, a church that is considering multisite has to decide how it wants to deliver its teaching content: through live in-person at each campus or by video."
Video-related technologies such as lighting, cameras, DVDs and hard drives, satellite feeds, projectors, screens and sound boards can easily take up a significant portion of a church's multisite budget.
Other technologies churches must consider as they go multisite are directly related to communication and management. One church management system, Church Community Builder (churchcommunitybuilder.com), launched full multisite functionality in December and includes features such as online campus management, child check-in across campuses, aggregate reporting across campuses and data plots to measure where people are coming from.
Pantano Christian Church in Tucson, Ariz., currently has two campuses, with another planned to launch next year. The church's pastor of outreach and technology, Bill Fisher, notes that with Church Community Builder "it is clearer which groups are associated with each campus, and that helps when people are searching to join a group."
"It also helps us in data collection," he says, "as we can get specific information based on the campus related to anything—to include visitors, number of people in groups, number of people who signed our membership card and giving.
He adds: "These multisite features allow us to manage each location separately and help our maintenance folks to run local room setup reports. They also help to make it easier for our campus pastors to track, connect and manage visitors specific to each campus."
With video being such a large part of multisite churches, new technologies are popping up to assist this group with advanced communication tools. BombBomb's (bombbomb .com) video email services make it possible to send video messages via email from your pastor to specific groups of people within your church.
"The idea is to put the face you know and love in your inbox. Students get the youth pastor, volunteers get the volunteer coordinator, everyone gets the lead pastor for their campus. Churches can have multiple users, lists and email designs all within one subscription. Overall, multisite communication is made as easy as it is for one site," notes Darin Dawson, co-founder of BombBomb.
Additional helpful multisite tech tools include Google Apps, Dropbox, Evernote and Tungle.me. Each encourages productivity across multiple locations.
---
Lauren Hunter is a freelance writer, church technology consultant (lauren@laurenhunter.net) and founder of the blog ChurchTechToday (churchtechtoday.com). Lauren can be reached at lauren@laurenhunter.net. To get Jim Tomberlin's free ebook on multisite churches, go to multisitesolutions.com/125-tips-for-multisite.
Improve your life and ministry by learning something new. Our Ministry Leadership Bundle includes 3 Books: Amplified Leadership, Breaking Intimidation and The Power of Humility. View Offer!
Get our BEST DEAL on Ministry Today magazine. Get a full year for only $12! Yes-I want this deal.