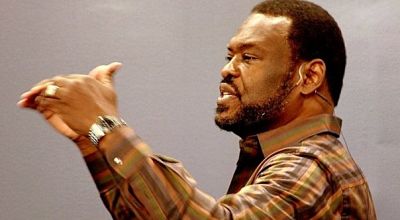 Would you join me and Bishop Harry Jackson on a conference call on Tuesday, August 21, at 9 p.m. EST/8 p.m. CST. Dial (530) 881-1000, code 760660#. I estimate the call will take 30 minutes. Bishop Jackson can explain it better than I can. However, he explains a lot in his letter below.
I'm writing this because I believe you are as concerned as I am about the way our nation is going. One of the most serious threats to our religious liberties and also an indication of the state of the moral decline of our culture is the fact that President Obama has come out in favor of same-sex marriage. I believe that if he is reelected he will take it as a mandate to push legislation to approve same-sex marriage.
I've come alongside Bishop Harry Jackson, who has a strategy that he believes will swing enough votes in seven key states to keep from electing Obama. He would reach out to black and Hispanic ministers who had previously supported Obama with the idea that the president has finally gone too far and that supporting same-sex marriage is too serious to support him again.
Bishop Jackson was successful in 2008 in helping us get the marriage amendment passed in Florida with 62 percent of the vote. The critical votes came from African-Americans who supported marriage at the same time that they voted for Obama. A similar strategy worked in California. So I believe that it can work again.
I'm looking for 100 people who will, like me, help Bishop Jackson raise some money to fund this effort. As you can read below, he needs $1.5 million. We are creating a Team 100 of people who will either raise or give $15,000. This is a small sum considering the importance of the issue.
Like me you probably feel tapped out. You're probably involved in other campaigns. You probably also give generously to other political campaigns. However, this is an issue that if we lose it this time it is going to be extremely difficult to ever change it, so we must act.
At this point we're asking for no commitment—only for you to listen to Bishop Harry Jackson and then decide.

Steve Strang
_____________________________
______________________________
_________________________







6251 Ammendale Road, Beltsville, MD 20705, 240-845-0388

July 5, 2012

Dear Steve,

I trust this letter finds you and your family doing well. This is my favorite time of the year. For most of us, this is historically the season of fun in the sun and making family memories. Instead of resting, I have been preoccupied with mounting a response to the radical national attack on biblical marriage. I and the leaders signed on below, believe that a redefinition of marriage CAN BE STOPPED.

The president's confession concerning homosexual marriage left me shocked and disappointed in our nation's spiritual leadership. Much noise was made in the media about the black church and its political response to the president's brash declaration that his faith was some how involved in his myopic decision to endorse gay marriage. As you may be aware, several networks sent TV cameras to record my response to the situation in our Mother's Day services. During that weekend, I realized that many Christians of all races have grown weary of fighting to defend biblical marriage.

More recently, I was shocked by the disconnect between the moral outrage of the man on the street, concerning the potential devaluation of marriage, and the general timidity of the pastors and pulpits of the land. The most shocking reports I have gotten have come from Minnesota, where highly regarded movement leaders have decided "to sit this one out," politically speaking. This approach makes about as much sense as Nero fiddling while Rome was burning.

I have spent the last eight weeks working on a practical grass-roots plan to compel the administration and the GOP to enforce the existing DOMA (Defense of Marriage Act) laws. I have pulled together a first-class team which has developed a winning strategy to thwart the attempts to overthrow DOMA and redefine traditional marriage.

The nation needs your help at this strategic time in American history. The grass-roots plan that we've developed focuses on bringing a "new rainbow coalition together"—the body of Christ, in all of its cultural, doctrinal and racial diversity. Importantly, we can use the visibility and support of the African-American and Hispanic churches to win this important conflict. If followed to the letter the plan can save marriage until it is ruled upon by the Supreme Court. The price tag for all of this is just $1.5 million. Neither my ministry nor the leaders at the heart of this battle can give this kind of money during the next four months without assistance. In fact, we need $150,000 immediately with bulk of the expenditures coming from Labor Day to Election Day.

What do I need from you? Just three things:

Give an immediate, substantial gift and consistent financial participation over the next four months. I need 20 large ministries to commit to raising $20,000 to $100,000 in cash or in kind services. The balance will primarily be raised from foundations and individual donors.

Mobilize both prayer warriors and volunteers to help in the flagship pastors summits and young adult rallies we will have in each of the seven swing states outlined in our strategy. Use your media infrastructure to encourage all Christians (especially in our seven swing states) to participate in our Vote Vertical Campaign.

Finally, it is obvious that America has fallen on hard times because of our poor spiritual and moral choices as a nation. We can rescue the nation by preaching the pure unadulterated gospel. Please join me taking this monumental step of faith.

Yours Because of Calvary,

Harry Jackson

Also, standing with me are these signatories:
Rev. Samuel Rodriguez (National Hispanic Christian Leadership Conference)

Rev. Alveda King (Priests for Life)

Dr. James Garlow (San Diego, CA)

Day Gardiner (Washington, DC)

Bishop Joseph Mattera (Brooklyn, NY)

Bishop Joseph Garlington (Pittsburgh, PA)

Steve Strang (Orlando, FL)