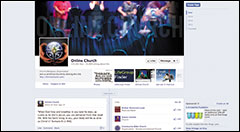 I get asked a lot about the Online Church Facebook page and how it grew to more than 250,000 page likes in less than two years. People often expect one secret sauce solution. That simply does not exist. This page grew through experimentation, systematization and plain old hard work. Over the first two years of the Online Church page's existence, we have failed at many experiments and succeeded in just a few. However, those few successful efforts have been tremendous for our growth. Here are our three success points:
1. Schedule posts.
We post approximately four to six times each day. Many people suggest this is too frequent, but the reality is that Facebook users rarely go to your actual page. They interact with your posts in their newsfeed, and they likely only see about 10 percent of the posts you make. This means that if we post four to six times each day, the average user will see just one of our posts every other day. Doesn't seem like too much to me, and our Facebook community has yet to complain. By the way, we schedule out most of our posts through Facebook's scheduling feature so that we don't have to manually post with this regularity. We monitor the page closely and always strive to constantly engage with our audience.
2. Post variety. We have a posting formula, which helps create a balance of posts focused on inspiration, conversation and information. Most churches want to get straight to the information and let people know about their events and activities. We've found that the more we offer inspirational and conversational posts, the more effective our information becomes. We try to add even more variety by posting these three different styles using multiple formats, such as text, images and videos.
3. Consider paid ads. You don't have to, but I think paid ads are a great tool to reach more people. For the Online Church Facebook page, we spend about $5 per day on ads, and the exponential growth these have fueled has been well worth the cost.
On our way to finding these success points, we've made dozens of mistakes. As we now look ahead to the milestone of 500,000 likes, I'm sure we'll try dozens more experiments that will fail. At the same time, I believe that through those experiments we will find two or three more things to add to this list. We plan to keep experimenting, keep tweaking our systems and keep working hard as there are more than a billion active users on this network that need to hear about Jesus and engage in community.
---
Nils Smith is the author of Social Media Guide for Ministry and web pastor at Community Bible Church in San Antonio, Texas, where he helped to launch OnlineChurch.com. He blogs regularly and is passionate about serving the local and global church using technology in ministry.
---
All articles excerpted and adapted with permission from the website ChurchMarketingSucks.com