Page 23 of 25
One of the most peculiar expressions in Scripture is rich with encouragement for every believer.
Read more...
Transition in ministry can be a great blessing if you are sensitive to the Holy Spirit's leading.
Read more...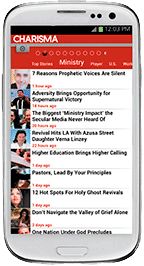 Check out some links below to recent stories from Charisma News that you'll find interesting and informative. You can also sign up to receive stories on your smart phone by signing up for the free Charisma News app by clicking here.

In spite of escalating turmoil in our world, and failed hopes for presidential elections in the USA, there still remains one last, great outpouring of mercy before the time of the end (see Matt. 24:14; Acts 2:17). This supernatural season is not something for which we must beg God.
No, its coming has been predetermined. It is the "appointed time" of the Lord.
As most know, an "appointed time" is an open display of the sovereignty and power of God, whether it is in calling a person or calling a nation. In it we discover with absolute certainty that nothing is impossible for God. It is a season when God fulfills the hopes and dreams of His people.
As it is written, "But You, O Lord, abide forever, and Your name to all generations. You will arise and have compassion on Zion; for it is time to be gracious to her, for the appointed time has come" (Ps. 102:12-13). Read more...


International House of Prayer's founder reveals how the 24/7 ministry hub actually works
On Sept. 19, 1999, a group of 20 people in Kansas City, Mo., began to worship God 24/7 and pray for an outpouring of the Spirit on God's people to build the church and establish His kingdom in every sphere of society. Today we have about 1,000 staff members who raise their own financial support as "intercessory missionaries." We were inspired by the financial model used by Campus Crusade and Youth With A Mission, both of which have about 25,000 full-time staff who have raised their own financial support.
All staff members spend at least 25 hours each week in our worship-based prayer room and a minimum of 25 hours per week in ministry outreach, works of justice, administration and service. About 300 of our staff and interns have reordered their lives to serve in the prayer room from midnight until 6 a.m. We call this faithful company the NightWatch. Along with staff, we have 1,000 students and interns in our full-time Bible school, International House of Prayer University (IHOPU), training to serve their local churches in prayer, worship and outreach.
Our week is organized into 84 prayer meetings, each lasting two hours. Every meeting is led by a worship team of 10 to 12 staff members who interact with intercessors in what we call the "harp and bowl model" of prayer (see Rev. 5:8). This refers to combining worship music and intercession in corporate prayer settings. Read more...
The auditorium was jam-packed with visitors for a dead man—my father, in fact. Students, teachers, engineers, taxi drivers, businessmen, nurses ... all lined up to pay their respects to a fallen hero. Hundreds came to the memorial service, with more waiting outside amid an overflow of familiar faces. All this for a simple music teacher. Read more...
A few months ago my pastor asked me to preach on a Sunday he was away on vacation. I'm not a preacher and knew several others who would've been better substitutes. But I also knew the Lord had been sharing with me something I felt would help our congregation, so I said yes. Read more...
Early in the movie Amazing Grace, William Wilberforce sits in a field of wet grass enthralled with finding God in the intricacy of a spider's web. The legendary abolitionist is in his early 20s and on the cusp of political stardom, yet at the time he'd gladly give up his career aspirations just to "meet in secret" with God. Wherever he turns—from feeding beggars who arrive at his doorstep to staring at the passing clouds—the young Wilberforce finds himself lost in worship. And it's from this disposition that he embarks on a journey that eventually shapes world history. Read more...
For the already overworked pastor, the challenges of this season mean one thing: It's gut-check time. Read more...
It's not our lack of leaders that has us awry these days, it's our understanding of what a true leader looks like. Read more...