Page 23 of 25
Examining the principles that are essential in leading a congregation to maturity and fruitfulness. Read more...
Many preachers are bound by a "patience" that keeps them from confronting the status quo. We need pastors to lead with passion. Read more...
Sensivity and understanding are imperative in Messianic ministry. Read more...
Some say God speaks only through the Bible. But an honest look at Scripture reveals many ways God has chosen to communicate to His children.
Read more...
Gnosticism is alive and well in the 21st century. Tragically, even those who should know better are sometimes deceived.
Read more...
Are you ready for ministry in the new millennium?
Read more...
One of the most peculiar expressions in Scripture is rich with encouragement for every believer.
Read more...
Transition in ministry can be a great blessing if you are sensitive to the Holy Spirit's leading.
Read more...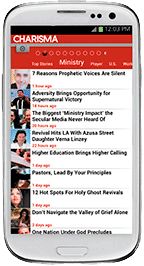 Check out some links below to recent stories from Charisma News that you'll find interesting and informative. You can also sign up to receive stories on your smart phone by signing up for the free Charisma News app by clicking here.

In spite of escalating turmoil in our world, and failed hopes for presidential elections in the USA, there still remains one last, great outpouring of mercy before the time of the end (see Matt. 24:14; Acts 2:17). This supernatural season is not something for which we must beg God.
No, its coming has been predetermined. It is the "appointed time" of the Lord.
As most know, an "appointed time" is an open display of the sovereignty and power of God, whether it is in calling a person or calling a nation. In it we discover with absolute certainty that nothing is impossible for God. It is a season when God fulfills the hopes and dreams of His people.
As it is written, "But You, O Lord, abide forever, and Your name to all generations. You will arise and have compassion on Zion; for it is time to be gracious to her, for the appointed time has come" (Ps. 102:12-13). Read more...